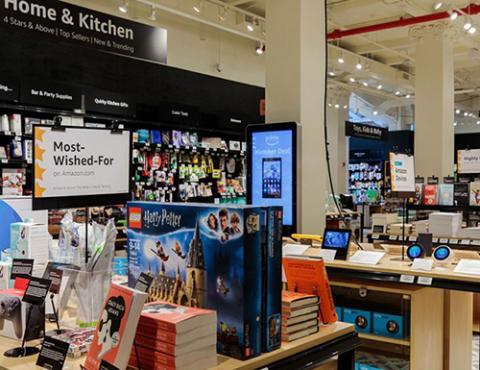 Amazon is trimming back its physical footprint by eliminating a couple of its brick-and-mortar banners.
The company plans to close 68 brick-and-mortar stores, including its Amazon Books locations and Amazon 4-star locations, along with Amazon Pop Up sites. The news was first reported by Reuters. The closure dates, which are unspecified, will vary.
"We've decided to close our Amazon 4-star, Books, and Pop Up stores, and focus more on our Amazon Fresh, Whole Foods Market, Amazon Go, and Amazon Style stores and our Just Walk Out technology," an Amazon spokesperson told Chain Store Age. "We remain committed to building great, long-term physical retail experiences and technologies, and we're working closely with our affected employees to help them find new roles within Amazon."
Amazon 4-star stores, which are mall-based, carry items from some of the most popular categories on Amazon.com. Everything in the store is rated four stars and above, is a top seller or is new and trending on Amazon.com. The format made its debut in fall 2018, in New York City.
The company is set to open its first-ever physical clothing store, Amazon Style, later this year, at The Americana at Brand, a lifestyle center in Glendale, Calif. Designed to offer a high-tech shopping experience, the 30,000-sq.-ft. store will feature women's and men's apparel, shoes and accessories.
Most of the clothing will be out of sight and kept in the back of the store, with only one sample of each item displayed on the sales floor. Using the Amazon Shopping app, customers will scan an item's QR code to see sizes, colors, overall customer ratings and additional product details. With the tap of a button, shoppers can have the item brought to a fitting room or the pickup counter.
Customers can continue shopping in the fitting rooms, which have touchscreens where they can browse more options, rate items, and request more sizes or styles to be delivered directly to the room within minutes. Shoppers can also view deals in-store that match their preferences, in the Amazon Shopping app.
Frictionless shopping in the store
Amazon's remaining Amazon-branded physical store formats all feature a frictionless shopping option. Introduced in August 2020, the Amazon Fresh grocery banner features Amazon's "Just Walk Out" technology. First introduced in 2018 in the Amazon Go convenience-store banner, the technology leverages a combination of computer vision, sensor fusion and deep learning that enables shoppers to shop the store, pick out what they want and skip the checkout when they're done. In February, the technology was introduced in Amazon's Whole Foods Market division, in the chain's new store in Washington, D.C.'s Glover Park neighborhood.
The cashierless technology connects customers to their Amazon account or credit card. Customers are prompted at the store's entry gates to scan the QR code in their Amazon app or insert a credit or debit card linked to their Amazon account to open the Just Walk Out gates. Some stores feature the Amazon One proprietary palm payment solution.
Amazon also offers its contactless shopping and payment options at the recently opened Climate Pledge Area in Seattle. Frictionless shopping options at select food and beverage stores within the arena include Just Walk Out, as well as Amazon One palm-based payment.